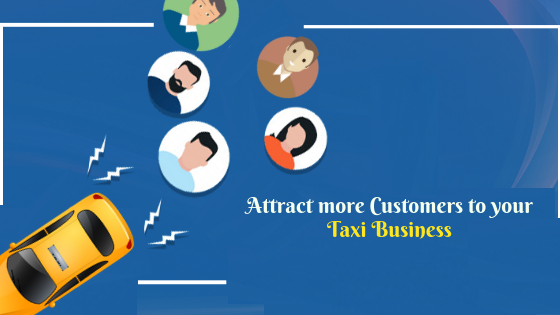 As we all know for any business customers are the king. Customer satisfaction is very important to enhance your business. The same is followed by the Taxi business too. This part is inexorable in any type of business. Do you think is it easy to attract more customers to your taxi business.
You need to focus on many strategies to attract more customers to your business.
For any successful taxi business, taxi dispatch software with a user-friendly interface is mandatory to compete with other taxi services. This also helps to overcome the limitations of the traditional way of carrying out the taxi business.
In this article, we will see some tips to attract more customers to your Taxi business.
#1. Promotion via Online
   1. Social Media Networking
As we all know that there is no person without a Facebook or Instagram account, so it is easy to make communities using this social media network. This will definitely add a bonus to your taxi business.  

You can use Facebook, Youtube, Twitter, and Instagram for promoting your taxi business through these channels of social media.

Also, You can develop business pages to enhance your company profile and attract customers.

Always keep an eye to focus on the updates of your business services and that need to be posted constantly to update the business page.

The page should also include videos, promo codes and other contests to attract your customers
    2. Online booking service- 24/7
Most of the customers would always like to have online booking and they really love your service if it is 24/7.

This need is considered and solved via taxi dispatch software. Customers can download this software on their mobile phone and can use this mobile app to book the taxi by just clicking the button.

You can also have a web page with this 24/7 online service so that if all the customers are not willing to download this app, they will use your service through your web page.
#2. Public Relation & Media
Public relation is very significant in any business. You can maintain this by making use of any local media and sharing the success stories of your service.

Most of the channels of the media will help you to publish your success stories for free.
#3. Effective advertising of your service
As we all know effective advertising will assist you to promote your services among the huge number of people hanging out in the social media channels.
     1. Google Adwords
This is an online advertising service where you can use this Google Adwords to reach your customers in an effective way.  You can Pay Per Click on your website to boost the traffic for your site.

But to work with Adwords, you need an experienced professional and that will cost you to some extent.  
      2. Facebook & Instagram Advertising
To advertise through Facebook and Instagram, you need to start an account on Instagram and you can connect to Facebook through this account. This will allow you to focus on the targeted audience with their location.  

Though in the beginning people may not start downloading your mobile app, these Advertisements will surely attract more customers to your taxi business and you can also maintain a customer database.

The simple thing in this advertisement is, Facebook App is already integrated with Android and iOS platforms.
#4. Exclusive
      1. Share your taxi service for restaurants
Nowadays hotels and restaurants have online orders where they always need a taxi service for their customers.

You can always make an exclusive by sharing your taxi services always for their needs so that customers will get to know about your service through other business needs.
#5. Driver Recruitment
      1. Recruit efficient drivers
Taxi drivers play an important role in your taxi business. You always don't meet your customers directly but drivers always meet them during their daily ride.

So it is very important to recruit efficient drivers and you need to train them to satisfy the customers by talking to them in a polite way and drivers need to introduce your taxi booking app to the customers.

This will make the customers look into taxi booking app. Always offer some discounts for your new customers to download your app.
      2. Make use of the driver app
You should have the drivers app for your taxi business. This will help the drivers to hang out during their free time.

The efficient drivers will make use of your app and will try to refer more drivers to your taxi business within a short span of time.

when you get more efficient drivers for your business, they will be helpful to get more customers for your taxi business.  
How to grab your customers
As we have already seen the customers are the root of your business and that is the only reason that you need to be engaged with them
     1. Free offers
There is a mindset that customers always look for anything which is totally free of cost.  

Try to make use of this strategy and approach your customers with your free services by offering promo coupons.

This will definitely help to capture their attention towards your service.
      2. Distributing Coupons -Offline
You can distribute your coupons to your customers in some public places like good restaurants, bars, cinema theatres, Colleges, Exhibitions, etc.

If you offer a very good service to your customers, these coupons are going to help you to expand your service among a huge number of customers and these coupons will get distributed among business centers, top restaurants, etc.
      3. Distributing Coupons -Online
As we have already seen that you can promote your service online, here you can also post regarding your promo codes and coupons available with your service.  

You can make use of the channels of social media to post your coupons
#6. Branded Fleet
The branded fleet is going to attract almost all group of people. Be it, high class or middle class, they will notice your branded taxi. In this taxi business, your taxi is going to be visible to a huge number of customers and it is very important to have a branded fleet for your business.

When your branded fleet is parked in front of any business center or any entertainment center, this will expand your service by advertising your brand to many people at free of cost.

This will make your service recognizable and popular among your customers
As per the survey conducted by some trucking association, we can list out few points based on the branded fleet:
A branded fleet moving in and around a city is going to make more visual impressions. Approximately it makes impressions more than 65000 per day.

Most of the consumers, especially 98% felt that good fleet graphics will have a positive effect on the taxi company.
Just think of this study when you look for other promotional activities.
#7. Follow up with your customers
The important feature that to be included in your taxi dispatch software is ratings and feedback.

The real-time feedback from the customers regarding the driver or service will help you to revise your service and train your drivers accordingly. This will ensure that your service stays ahead for all your customers.

So make a responsible executive follow up with the concerns of the customers through email, call or any social media network
#8. Maintain Your Customers
      1. Referral Campaign
Referral campaigns are used as marketing channels to attract customers and will surely enhance the rate at which the apps are installed.  People always consider the feedback of other people. They will try to distribute the promo codes

This a very cost effective marketing channel where all the programs are fully automated.  
      2. Credit Card Payment Integration.
People are always busy in this fast-moving world and always like to do fast transactions by saving their precious time.

Most of them generally don't like to stand out of ATM to withdraw the cash or to carry a checkbook.   

They would always like to go easy payment options like a credit card, debit card, etc for their ride. So make sure this option is available in your taxi dispatch software.
A Free Taxi Dispatch software Demo can help you understand the features before buying it
Conclusion
Hope in this article, you will be able to find some strategies or tips to attract more customers to your taxi business. These tips will help you to boost your taxi business effectively.
If you already run a Taxi Business and want to make your customers happy. here are some ways to keep taxi customers happy and returning.