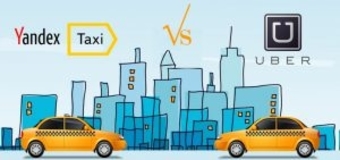 There are many numbers of cab management system available in the Google play store nowadays. All those Taxi Dispatch Apps provide superior services in the different countries and their cities. Today we will discuss about two highly reputed apps Yandex taxi app and Uber taxi app amongst those competitor apps.
Yandex Taxi App
Yandex Taxi, founded in 2011, is Russia's largest online transportation booking service in Moscow and other cities across Russia. Approximately 200 Russian taxi companies that operate approximately 20000 cabs are using this service.
In 1993, two school friends Arkady Volozh and Ilya Segalovich, working together, invented the word "Yandex" to describe their search technologies. The name initially stood for "Yet Another iNDEXer" and the Russian word "Я" ("Ya") corresponds to the English pronoun "I", making "Яndex" a bilingual pun on "index". Another pun is based on the yin and yang contrast
They found several products such as Yandex Search, Yandex Browser, Yandex news and many more. One of those products is Yandex Taxi that offers you to book a taxi using taxi dispatch software. You can order a taxi on the site through Yandex.Taxi app. It supports various platforms like Android, iOS, Apple Watch or Windows Phones.
Yandex.Taxi app is an easy and safe way to book a taxi on just a single tap without any waiting. Your order will be sent directly to the nearby available driver so that they can reach you quickly.
It serves various services. You can choose amongst the numerous service levels like "Economy," "Comfort," "Business," and for bigger groups, "Minivan." Get to any of Moscow's airports — Sheremetyevo, Domodedovo, or Vnukovo — with a fixed-price trip.
Yandex.Taxi operates in Moscow, Saint Petersburg, Yekaterinburg, Novosibirsk, Samara, Nizhniy Novgorod, Krasnodar, Sochi, Perm, Omsk, Minsk, Yerevan, Almaty, Kiev, and Tbilisi.
Uber Taxi App
Uber develops Uber App that allows users to send a trip request with smartphones. Garrett Camp, the founder of StumbleUpon, and Travis Kalanick in 2009 founded as UberCab. Uber Technologies Inc. is the worldwide online taxi service provider based on America. Its headquarter is in San Francisco, California.
Uber announced a collaboration with Carnegie Mellon to establish the Uber Advanced Technologies Center in February 2015. A new facility in Pittsburgh meant to support research in the development of self-driving vehicles. Uber announced the first customer trial of autonomous taxis which was to take place by the end of August 2016 in Pittsburgh, but nuTonomy overtook that, which launched the first public trial of electric self-driving cabs in Singapore on 25 August. On September 14, 2016 Uber launched its first self-driving car services to select customers in Pittsburgh, including Pittsburgh Mayor Bill Peduto.
Also in 2016, the company partnered with Airbus to test an Uber service with helicopters in São Paulo. Sao Paulo is a popular for its extreme traffic congestion and for having the largest helicopter fleet of any city in the world. The test, which lasted for one month, was Uber's first helicopter service, unlimited to specific events. Uber went on to offer helicopter service at the Cannes and Sundance Film Festivals. In September 2016, Uber  announced the possibility of developing small planes capable of vertical take-off and landing (VTOL), therefore they can be used for short-haul flights in cities.
Uber has superior features in every aspects. Uber provides its service over 66 countries and 545 cities. The Uber app facilitates the auto fare calculation and transfers the payment to the driver.
Uber's pricing is similar to the metered taxis, although the entire payment process takes place exclusively through the Uber app. In some cities, if the Uber car is traveling at a speed greater than 11 mph (18 km/h), the price is calculated on a distance basis; otherwise, the price is calculated on a time basis. Uber prices are the premium that the customers pay for a cab service that is reliable, punctual and comfortable.
Furthermore, Uber provides a rating facility to both drivers and passengers. The passenger may rate the driver, in turn, drivers may rate users. A low rating might decrease the availability of the service to the user.
Source : https://en.wikipedia.org/wiki/Uber_(company)