.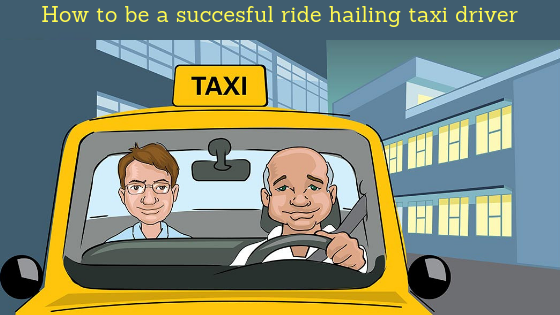 With the advent of e-hailing taxi culture, the demand for taxi drivers is very high. The people around the world are preferring taxi services like Uber and Lyft like taxi booking app instead of driving themselves to work. There is a huge demand for taxi drivers in the job market today and the glossier side of things is that you do not require any kind of formal education to become a taxi driver.
If you are good with your driving skills, you can be your own boss. You can even opt for flexible hours and earn good pay. Being a taxi driver requires no formal education and lets you be your own boss and offers flexible hours of work. If you are successful, it also provides you with good pay. While statistics state that the average earnings of taxi drivers around the world are around  $10.97 per hour, it is observed that experienced drivers can earn twice that.
In this blog, we shall discuss how you can become a successful ride-hailing taxi driver. We shall discuss the ride-hailing drivers' tips and the essentials to set up your career as a taxi driver with an online taxi dispatch company.
To become a successful ride-hailing taxi driver, you will need to get the proper training and certification. You can choose to be an independent driver or work for an online taxi company. The latter provides you with a sense of security in your jobs and requires very little investment.
Here are a few tips and suggestions to be a successful ride-hailing taxi driver.
#1. Make sure you have all the necessary qualifications
Every city and region in the world have a specific set of requirements for taxi drivers. You should check them properly and make sure that you qualify to become one.
Typical requirements for taxi drivers in major cities around the world include:
A driver's license – this is the mandatory and foremost essential to be a taxi driver.
Minimum Age – In most countries,  taxi drivers must be at least 21. Some countries even allow you to become a taxi driver at an age as young as 18.
Healthy mind and body  – Drivers often have to pass a health examination to ensure that they have no conditions that would endanger the life of passengers while they take a ride.
No Convictions – Drivers must typically have no convictions or charges against them and they should not be serving parole.
No Tickets – Drivers must typically have no tickets to be paid in order to get certified.
#2. Undertake proper training to be a taxi driver
As we pointed out earlier, there is typically no formal education that one requires to be a taxi driver. You don't need a high school diploma or even a middle school degree. In spite of this,  but a lot of cities insist that the taxi drivers get some kind of brief training before they start off professionally. The kind of training will vary from city to city. This training for new taxi drivers usually lasts from a day to several weeks and covers all the local traffic laws, driver safety instructions, street layout of the city, communication equipment, and its usage, and taxi meter operation. Many of the online taxi dispatch companies will usually train new hires for free, so that is some amount of money saved if you choose to work for a taxi company. If you are adamant on being an independent driver, you can seek training at a local community college or specialized taxi school. However, this can burn a huge hole in your pocket.
Let us see what sort of training does some major municipalities required by law.
New York Municipality insists that the new taxi drivers must take a 6-hour defensive driving course and complete either a 24 or 80-hour taxi school course. The longer course is really worth it since it is said that only 53% of test takers pass the license test.
In Chicago, you must attend a course at the Public Chauffeur Training Institute for 3 weeks if you want to be a taxi driver.
San Francisco municipality asks that you must attend an accredited taxi school and obtain a Taxi Training Certificate and Sensitivity Training Certificate before you get on the road and takes up passengers.
In Paris , you must have obtained a level 1 first aid certificate, or Diplôme PSC1 prévention et secours civiques de niveau certification before you can be a taxi driver.
#3. Pass all the required tests
All the municipalities have a test that is mandatory for you to pass before you become a taxi driver, even if they do not ask you to have formal training. Applicants often require a fee to take these tests. They vary in difficulty and requires around 2-4 years of study. Some more difficult levels of the exam require around 8 hours of study. If you do not choose to be a part of any training course, then the municipality will typically provide a study guide to help applicants prepare for the test.
Tests cover a wide range of topics such as:
Routes

Landmarks

Boundaries

Cab requirements

Business practices

Non-discrimination of customers

Satisfactory Customer service

Get the necessary paperwork.
In addition to the tests for evaluating the knowledge of the cab drivers, most cities will require you to submit an application, furnish certain documents and undergo background checks and medical examinations to ensure that you have the right to work along with a clean driving record and no criminal background.
Typical requirements include:
Immigrant documentation if you are one.
A criminal background check for which you will have to furnish fingerprints.
#4. Decide if you will work for your own cab or contract to work for a taxi company.
Now, this is probably the most important decision that you will make that will determine your success as a ride-hailing taxi driver. It might seem profitable to be an independent taxi driver. Drivers who own their cabs take almost  100% of the fares they receive, but they also have a host of expenses. This can range from the cost of the cab to insurance to licensing. Drivers of online taxi dispatch companies do not have to bear the costs of promotion or advertising. They also ensure that you have rides whenever you are online. That is a great deal!
#5. Consider the costs of being an independent driver.
Depending on the city or state where you will be driving your taxi, setting up your own taxi and getting passengers can cost anywhere from about $5,000 to nearly a million dollars. Yes, don't be surprised. One million dollars. In big cities where it is difficult to get the license of a taxi due to a limited number of licensed taxis is limited,  the cost of obtaining a license is often overwhelming. It leaves new drivers with little choice but to work for established taxi companies like Uber and Lyft.
Let us see the overall costs of setting up an independent taxi business to get an overview.
The cab – Cars used as cabs in cities include Ford Crown Victorias, Dodge Caravans, Nissan Quests, Ford Escape Hybrids, and Toyota Priuses. These cars cost anywhere from about $3,000 used to over $30,000  for a brand new car.

Insurance – The insurance requirements for taxi are much higher than for private cars and can cost between $5,000-$10,000 a year.

A Taxi meter can cost around  $180.

A top light for your taxi can cost from $150 for a basic roof topper up to $1300 for a video topper.

Car markings –  You will need to put your business name and phone number on the side of your taxi for advertising. Decals start at $10-$25 per square foot.
This can be a huge cost, especially if you are just beginning to start out your career as a taxi driver.
So, what is a cheaper alternative?
Well, Get hired by a taxi company
Working for an online taxi dispatch company means you will be making less money per client, but it also comes without the costs of setting up your. In addition to this, having an admin who acts as a dispatcher can help you to get more rides every day.
In a taxi dispatch company, there are two ways that contract drivers get paid.
On a Percentage basis– The taxi dispatch company pays the overall costs, including gas and then, you take home about 30% of each ride. In some cities, drivers earn about $200 per day. This means they would take home around $60. In New York, the average is closer to $250 and the drivers take around $75 per day.

Leasing – in this case, the driver leases the cab and pays for fuel, but takes home all earnings. Renting a cab costs around $100 per day, with fuel amounting to about $20.  This means that they take home around $80 to $130 per day.
If you own a car, you can drive your own car for a service like Uber.
Drivers cars for these for-hire services are not the real taxi drivers and do not have to complete the same driver licensing or pay the same amount for a taxi license. This results in higher earnings per hour. Uber charges its passengers around $.18 a minute plus $1 per mile, with a surge pricing during hours of higher demands. The drivers get to keep around 80% of the fare.
The only requirements in this case are :
The driver must be at least 21 years or older
The car that you own must be bought after 2000 or newer.
Your Background check must turn out to be clear.
How to be a successful ride-hailing taxi driver?
Now that you are all set to go on the roads, here are a few things you should know.
Drive safely
Avoiding accidents should be your topmost priority as a cab driver. This is because accidents endanger you and your passengers and can cost you a lot of money.
You can ensure that your driving is safe by following these pointers.
Follow all the traffic laws.

Do not over speed.

Take care when you are changing lanes. Do not weave through the city traffic.

Do not drive when you are tired or otherwise impaired.

Report any kinds of accidents to the authorities immediately.

Protect yourself.
Accidents are not the only danger that a taxi driver faces. Taxi drivers carry cash and operate alone, often late at night, making them vulnerable to assault. You should always find ways to protect yourself.
Make sure you do the following to protect yourself.
Always inform the dispatcher whenever picking up a client.
Keep your windows rolled up and keep the doors locked between rides.
Be careful of passengers that give vague instructions.
Do not allow single passengers sit directly behind you. Make an excuse like company policy or car balance and politely ask them to move.
Do not drive into back alleys.
Do not resist robberies. Instead, try to memorize the suspect's description and contact the police as soon as possible.
Driving a taxi is a bit like doing fishing. You need to know where to get the baits. When you are starting out, experiment with different locations at different times until you find the right mix.
Some places to consider include:
Airports in the early mornings and mid-morning

Business districts during lunch

Suburban rail or subway stops during the rush hour

Secluded restaurants during the evening

Clubs at night and weekends
Know the town
Yes, there are geolocation and navigation systems that allows anybody to get from point A to B. however,  good taxi drivers know how to get where they are going on the fasted routes for any time of day. In addition to that, they are able to offer recommendations on dining, lodgings, and nightlife.
Provide quality customer service
Good taxi drivers can earn a lot of money on tips. The difference between earning a  5% tip and 10% tip can be huge. The better the service you provide, the more money you will make.
To give your passengers the best service possible, you can follow the following tips.
Keep your car clean.

Always call your passengers at least 30 minutes prior to pick-up if they have pre-booked the ride. This will keep them from worrying about whether you will show up or not.

Have some snacks on board for airport passengers. A bottle of water and a granola bar will be greatly appreciated by these hungry passengers.

Do not talk on the phone while on a ride. It makes you a less safe driver and also leaves you unavailable to answer questions.

Always stay calm. Do not curse at other drivers or traffic.

Be courteous and thankful to your riders. Wish them a  "Good morning," "good afternoon," or "good evening" when the passenger enters the car. Always thank your passenger when he or she leaves the cab
Conclusion
It is always better to take up a job as a taxi driver with an online taxi dispatch company rather than being an independent taxi driver. Read about the top taxi booking app development companies in your city- https://blog.infinitecab.com/top-10-taxi-apps/
Also, try a  free Taxi Dispatch Software Demo.
If you have had success being a ride-hailing taxi driver, feel free to comment down below about your trade secret!
If you are looking for an online taxi dispatch software, contact Infinite Cab today!