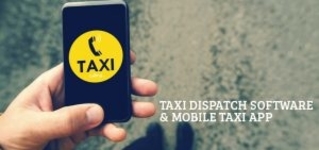 The GPS-based Taxi Dispatch Software or Mobile Taxi App was developed to deliver superior customer services and streamline operations right from booking the taxi cab to auto fare calculation and getting the invoice and managing payment. The cab app solution simplifies the process of taxi cab booking and provide a better service to passengers.
The primary requirement of every taxi business owners is the taxi cab booking solution . This can manage the fleet of cars equipped with mobile or tablets. With the leverage of GPS technologies, it would help to enhance and gain better taxi business visibility.
Cab Management System is an excellent way to start and retain your taxi service. In this present competitive world, having a Taxi Dispatch Software is better in all the prospects of the taxi business. The taxi cab app not just saves your booking and dispatch time, but it helps to grow your business.
Infinite Cab Management System provides an on-demand taxi dispatch system with the couple of great features.
Our development team has analyzed and planned the client's requirements into various phases. They have created a unified taxi dispatch software by integrating Driver, Passenger and the Admin panel modules with the essential web services to improve the tracking and booking performance. We also provide the Live Demo feature of each module and for both Android and iOS with preset user login ID and password. To check the demo for any module, all you need to just login using those given login details and that's it. We also provide WordPress taxi booking plugin with the comprehensive range of software solutions that is required for a taxi booking engine.
Our Challenges to Develop a Mobile Taxi App
– Tracking and synchronization cab location data with server.
– High inaccuracy in computing distance traveled by cabs
– Managing multiple modes of payments and invoicing
– GPS performance and user management
In our Cab Management System, we have implemented a digital odometer supporting GPS to track the traveled distance. Also, to simplify the payment process – our team has integrated a payment gateway to manage multiple currencies, E-Wallet payment tracking and auto fare calculation with invoicing functionalities.
Business Benefits of Taxi Dispatch Software
– You can Increase productivity by monitoring booking requests using taxi cab app
– Better performance by push notifications for both cab drivers and passengers
– Enhanced Quality-of-Service (QoS) by streamlining booking process on the fly
– Enhanced auto fare calculation, payment methods, and invoicing system
– Cutting edge Cloud taxi app features
Create your customized taxi dispatch software and mobile taxi app with our experienced and dedicated development team.
Our taxi dispatch software will help to enhance and achieve much better business visibility for a combined user experience for the cab drivers and passengers. Get professional tools for online booking with the advanced features of fleet management software.
Try our Cab Management System Demo and start your ride.