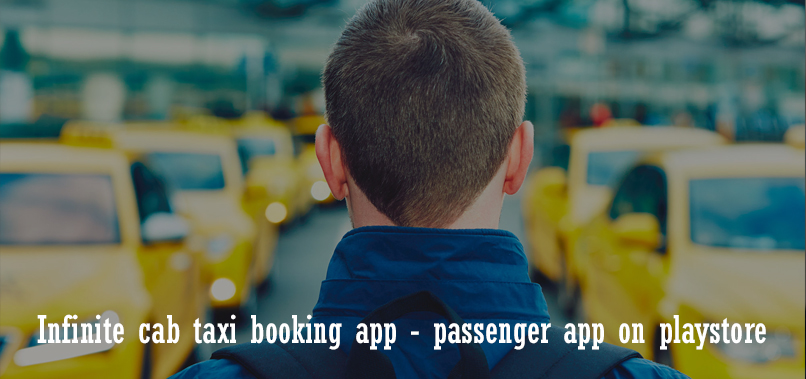 Infinite cab discloses the launch of infinite cab live passenger demo in google play. We hope to provide the best taxi booking android app, an extensive taxi management software Solution that gives you the courage to fabricate the enterprise level transportation business. This demo provides all the features and application of our taxi app in detail and allows user to hire taxi from anywhere.
We help to customize your taxi app development brand through your own custom design and business requirements that best fit your business processes and meet other obligations. We have already launched taxi booking mobile app and cab management system that deliver better and reliable services for the taxi management system. We provide infinite cab taxi booking passenger app with advanced characteristics. Cab booking app has become the most essential because it is the easiest and fastest way to book a cab or taxi in your city.
Infinite cab booking software and mobile application which embrace of all the essential services and features which required to streamline your taxi booking activities. Cab service has emerged as one of the niftiest, sought-after and in vogue ways to shuttle within the city. Our android taxi app brings out an enormous difference in the taxi management system.
Some of the Infinite cab passenger app features.
Request Ride – registered users can login into infinite cab account and request their ride.
Pickup location – select location to pickup user with help of map service in OS.
Drop Off location – select drop off location, destination will be validated using map service.
Distance traveled – distance traveled will be shown on map and will be updated periodically.
Show nearby cabs – When user selects pick up location, All nearby Cabs will be shown on the map.
Pickup time – user can choose the pickup time.
Available Cab types – user can choose the cab, variety of cabs are offered by our system.
Cancel booking acknowledged with SMS – user can cancel the trip, then driver will receive a cancel message.
Comment/rate taxi driver – users can rate the driver in star rating and also can add optional comments.
Download the mobile app from Play store click here