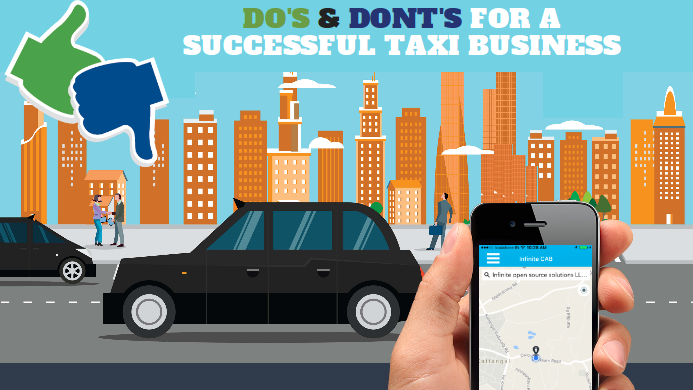 There are certain do's and don'ts that everyone should follow in order to run a successful taxi business! These are the information gathered by studying the growth of the giants in the taxi business field, namely, Uber, Ola, and Lyft.
There are simply the dominating ones in the taxi-hailing business. So learning from them would definitely enable your taxi business to reach to the next level.
The main secret behind running a successful taxi business lies in its strong foundation and using the right cab management software from the beginning.
Given below are the steps that would enable you to attain your goals.
Do's for Successful Taxi Business
#1 Do study the market
A thorough understanding of the basics of the market is the most crucial process before starting any business!
Knowing about the competition would definitely help you in recognizing the underlying potential in the market and the necessities which aren't provided by your competitors.
Don't just review the taxi business within your locality, instead, get a clear sketch of even the minute details!
How to attract more customers?
What features can you bring in to rise above the rest?
Spend as much as possible time at this stage and gather the crucial insights.
#2 Do know Your Audience
One of the major faults which some taxi owners make is that they just concentrate on gaining more trips than focusing on a particular audience.
This process would one take you one step backward in gaining additional revenue.
While every business aims for attracting more trips, it is very much necessary to focus on a target audience.
Everyone cannot prosper by providing low prices.
Whenever you build your business only on the basis of price, you are actually risking in losing the customers at any time, since any other competitor could beat your price.
Always focus on setting your pricing and key business strategies based on your audience.
For instance, if you are planning to cater the passengers from an opulent locality?
Then your motive should be definitely on providing high-class services with little consideration for affordable fares.
And if your target audience is the general public, make sure that you maintain a balance between both the pricing and punctuality.
#3 Do acquire your vehicle
Plan and fix your business model.
Find answers for the queries given below before setting on a plan.
How much are you willing to participate in running the business?
Are you interested in marketing your business?
And based on this, a taxi business can either lease the vehicles to the drivers or can carry out a partnership with the drivers to share the fares.
Also, if your budget allows, you can buy a new fleet of taxi cabs or hire a fleet on an annual basis.
Do consider your audience while purchasing your vehicles because some passengers may have certain special needs and parameters.
#4 Invest in Technology
Mobile applications are now no longer an additional feature for a successful taxi business, it has become a necessity!
It would be definitely more convenient for the passengers to book a ride on a taxi dispatch software apps like Uber or Ola.
There are a lot of software companies which offer Uber clone app for doing businesses.
Concentrate on creating your own identity through these Uber clone apps.
Investing in a taxi dispatch system will be definitely an added advantage to improve your efficiency across your tracking and dispatching processes.
#5 Always stay legal
It's always recommended to comply with all lawful guidelines.
Obtain the necessary license and permits to be obtained to operate your business legally.
Dont's for Successful Taxi Business
#1 Don't overlook your local market
Most taxi businesses fail to understand or analyze their locality.
Sometimes, your taxi business idea may be a success globally, but it may fail miserably in your hometown.
There is no one idea that fits all. Figure out your niche!
#2 Don't stop re-evaluating your business
Sometimes your business may be working out perfectly and that never means, it cannot be still improved!
Always try to analyze the plus points of your taxi business and also the areas where corrections are needed.
Also act accordingly, in areas where improvement is necessary.
#3 Don't ignore customer grievances
Give prime importance to your customer's feedback on your taxi business mobile app as they help to improve your quality of service.
#4 Don't neglect driver monitoring
Always make sure that your drivers follow the safety standards and are cordial to your customers.
Analyze the reviews of the customers and the ratings they give to drivers to maintain a consistent experience.
#5 Don't hope for results without marketing your business.
The taxi business industry is highly competitive!
So it will be really difficult to survive if your taxi business doesn't have a strong presence and brand identity.
Also, it will become difficult for your customers to trust your services.
Make sure your services reach to the maximum people!
Read our blog on Tips for Taxi Business Marketing Strategy.
Make your taxi business a success by integrating these useful tips.
Start your taxi business with the help of a perfect Taxi Dispatch Software & Mobile App to attract more people and thus improve your bottom-line results.
Visit our website and try an free taxi dispatch software demo to build an efficient taxi dispatch mobile app (in both iOS and Android platforms) for the smooth sailing of your taxi business.